File Sync Software is such a software that can help teams manage, create, and edit several documents from different devices. Technological advancements are rapidly growing and companies/enterprises are looking for more ways to increase productivity and efficiency at lower costs. 
With the onset of COVID, work culture is certainly changing and we should make use of software and solutions to manage teams at different locations. 
File Sync software lets users work on the same document from multiple locations. These software solutions update the files in real-time so that the other users get the updated versions of the documents. 
While choosing the right sync software, you must surely consider some basic or significant features. 
What are the Must-Have Features of File Sync Software?
Your file sync software is much like backup software. Besides creating the backup, it should be able to perform consistent regular synchronization between the devices at the same time. 
Cross-Platform Compatibility: A file sync software of your choice must be compatible with any platform of your choice. It should work on any platform such as Windows, Mac, and Linux.
Unlimited Data and Users: The file sync software should be able to handle unlimited data and store large volumes in the cloud. It should also have an unlimited number of users so that large companies may depend more on it.
Data Monitoring: Another important factor is that you should be able to monitor the data. Admin should be able to keep a check on who accessed and made changes to the data.
Security features: One of the most important features to consider is the security that it offers. It offers features such as data encryption, virus scans, malware protection, two-factor authentication, and anti-theft protection.
Integration: Lastly, it should be able to integrate with other platforms and devices at the same time. It should seamlessly integrate with the applications of your choice.
Considering the above features, we have listed some of the best file sync software that can help increase team productivity. 
Best File Sync Software to Try Out
1. Easy2Sync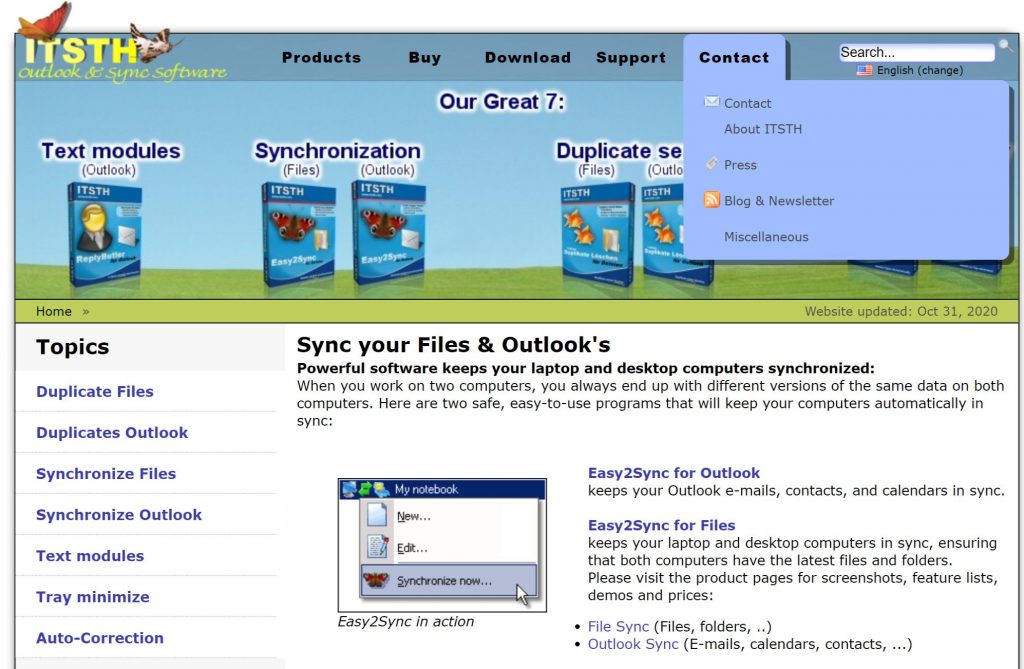 Easy2Sync is a file sync software that can be installed on any device. It comes in two variants: Easy2sync for Files and Easy2sync for Outlook.
It is considered one of the best sync software for Windows 10. The outlook version keeps your email, calendars and everything in the outlook synchronized. Easy2Sync for files keeps your files on the desktop updated with the latest files and folders. 
Features: 
Synchronization can occur on any network. Be it the LAN, WAN, or Outlook, it works with everything. 

It can sync various files at the same time. 

Synchronizing your file with an FTP server will update and transfer all the changes simultaneously. 

Stored Unlimited Mails and Folders. 

These folders can also be merged into the team folder for group collaboration. 
Pricing:  Easy2Sync is available for free and the software costs $66.30 with 1-year of unlimited support. You will also get the 90-day money-back guarantee above it.
2. FreeFileSync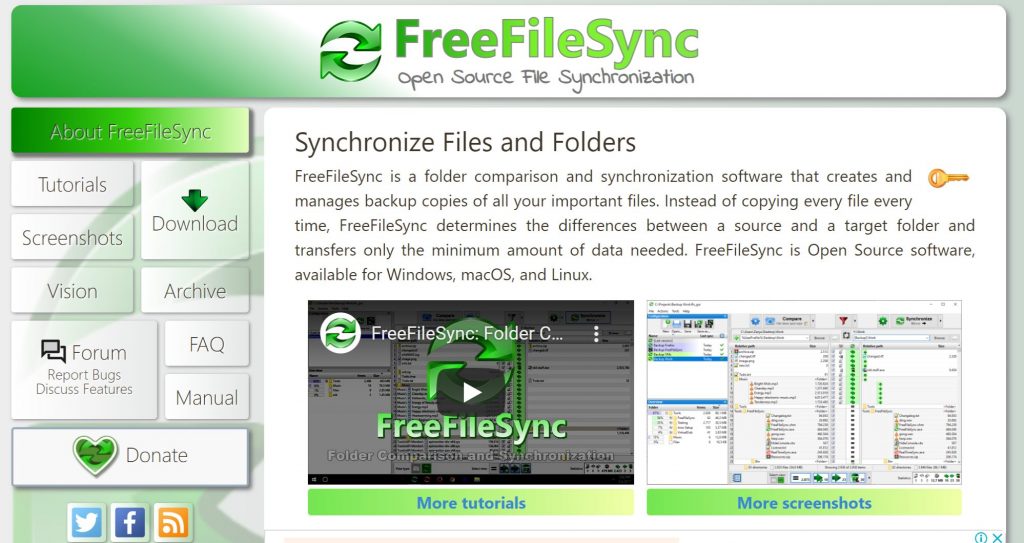 FreeFileSync is a great open-source file sync software that is available in Windows, Mac OS as well as Linux. It does so by comparing the files in different devices and transfers only the changed files. 
Thus, when copying all the files together, only the changed files will be transferred which makes it less time-consuming. FreeFileSync is a pocket-friendly option for the users and transfers the data on a real-time basis. 
Features: 
It is a great option if you need to manage the different versions of files together while keeping track of the history of the deleted files or any changes. 

One of the most intriguing features is that it offers a case sensitive synchronization.

The interface is available in more than 30 languages. 

In the dashboard, you can compare the files simultaneously and synchronize multiple files. 

 It synchronizes with various mobile devices via MTP or Media Transfer protocol for Android, Digital camera, or any other device. 
Pricing: FreeFileSync is completely free to download and use. 
3. GoodSync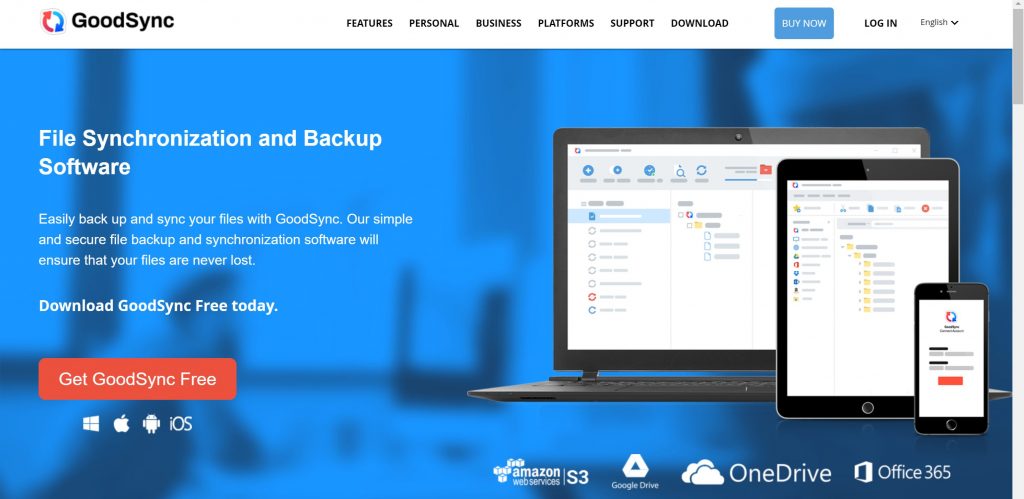 GoodSync is a reliable synchronization and backup software for Windows and Linux users. It is a great solution that ensures no old files are lost and synchronization takes place simultaneously. 
GoodSync offers a bi-directional synchronization for all the files. However, it does not store your files in the cloud. Setting up the software on your system is a breeze and can be done with just a click. Just click on Sync and you will be able to synchronize all your files on various devices. 
Features: 
It transfers the changed blocks of files that increase the efficiency and the transfer speed. 

To achieve faster speeds, the software offers sync in various threads parallelly. 

One of the most intriguing features is that it can transfer large files with a maximum of up to 1Mn on each side. Thus, the transfer can take place in less than 10 minutes. 

GoodSync also excludes file synchronization based on the name, pattern, and size. 

The systems can be connected in a peer-to-peer style without making use of the intermediate servers. 
Pricing: GoodSync is free to download for up to 3 devices. However, if you have more than 5 devices, GoodSync costs for the business and individuals cost differently. 
4. Syncthing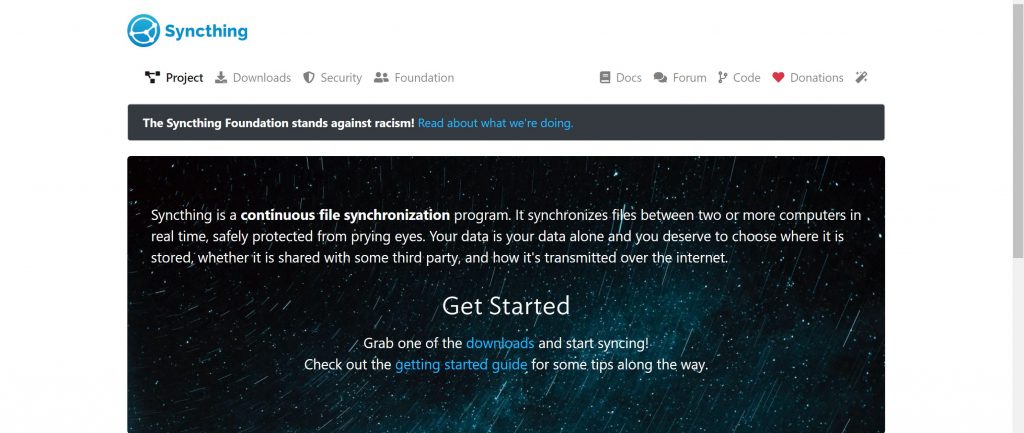 Syncthing is another free file sync software that can synchronize the data between two computers continuously. What separates it from other synchronization software is that it does not require any central server. 
Moreover, the software works on a peer-to-peer architecture. The computers working in this type of software stores the file in the shared folder and updates the changes in this folder only. It is an ideal choice for enterprises and SMEs. 
Features: 
Syncthing is a secured software that provides encryption using TLS. It also stores the data with high-end security on the computers. 

Syncthing only works over the LAN and doesn't need any IP address. They can be connected using the specified ID. 

Each node that you have made is authenticated by the cryptographic certificate. 

Syncthing works seamlessly on any platform including Android, MAC, and Windows. 

There is no central server that might store your data or information illegally. All of your data is stored on the computer only.  
Pricing: Syncthing is completely free to use file sync software. 
5.  SyncBreeze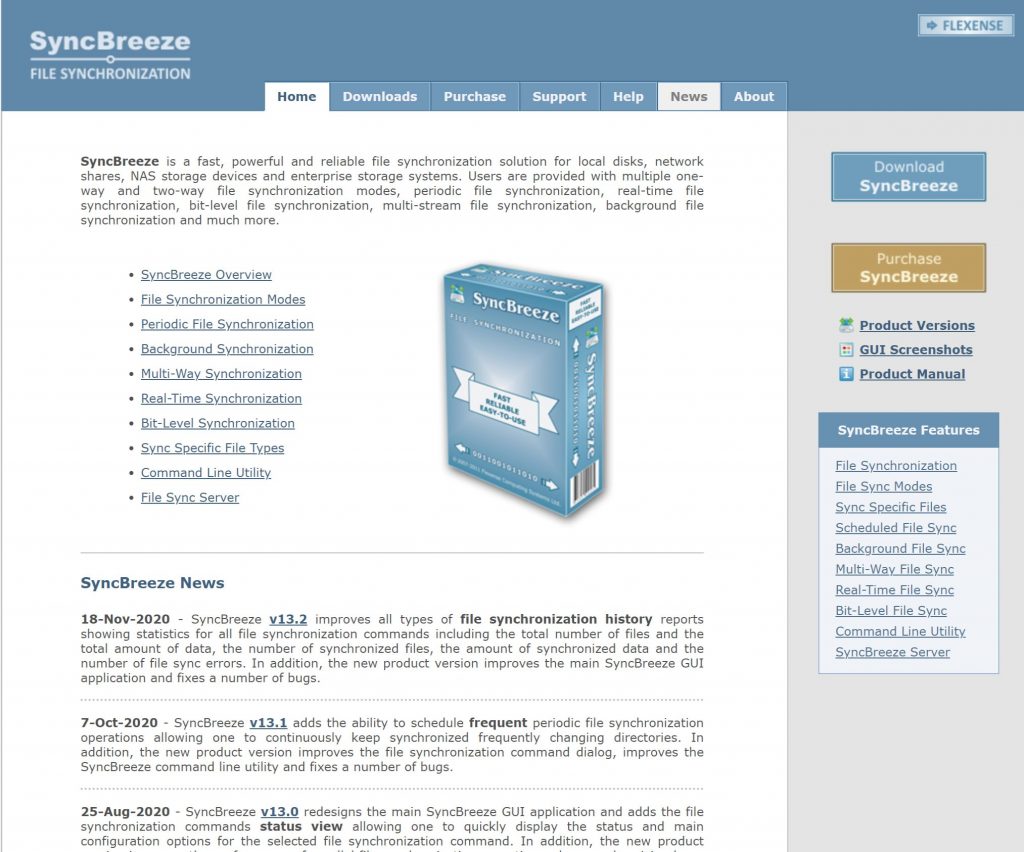 SyncBreeze is an intuitive file transfer and synchronization software that works on local disks, network devices, storage, and shared computers. Users can perform various tasks such as setting up the synchronization commands, save the file synchronizations, and perform real-time synchronizations. 
Features: 
 It performs the two-way or one-way file synchronization sp that users can perform different file synchronizations according to the requirement. 

One of the most intriguing features of SyncBreeze is that it can synchronize multiple directory pairs in a single file. 

SyncBreeze gives periodic and scheduled file synchronization for the users increasing their efficiency. 

Also, it gives real-time transfer where other users can monitor the source. 

SyncBreeze extends the life of SSD Disks along with providing the bit-level file encryption.
Pricing: SyncBreeze is free to download file sync software for the small as well as medium teams. 
6. Syncplicity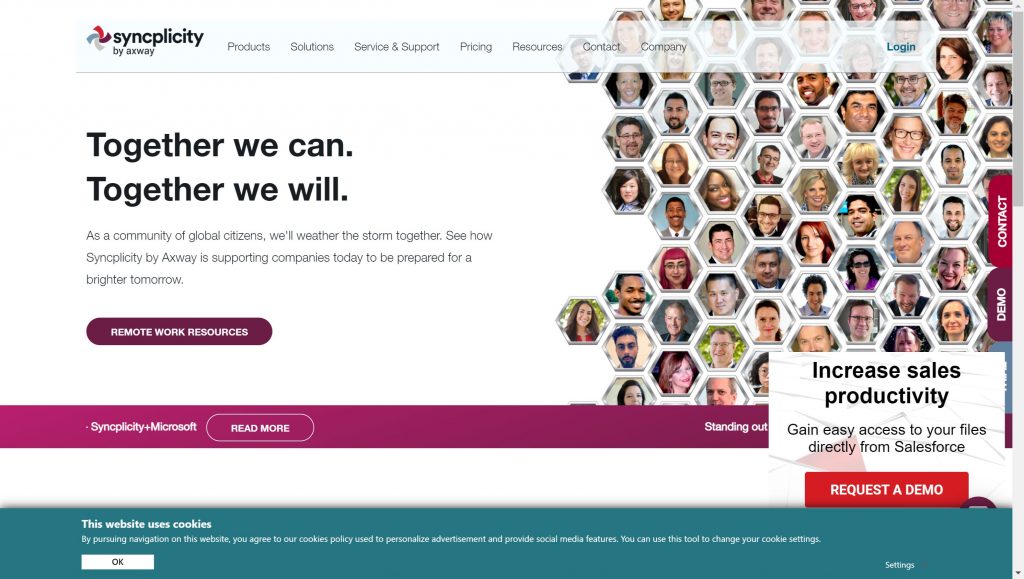 Syncplicity is a top-notch file syncing solution that is deemed fit for businesses of all sizes. It comes with a plethora of features including hybrid cloud, file tagging, customer support, and single sign-on access. 
This software supports the user based locations and servers (US or EU), along with remote device wiping. One of the most intriguing features is that it never keeps logs. Furthermore, it keeps no access to customer encryption keys. 
Features: 
Innovative and Amazing User experience

Comes with IT Infrastructure- on-premise, hybrid, and public. 

Syncplicity provides collaboration with AMPLIFY content services. 

It is best in the industry if you need a secured file syncing solution. 
Pricing: This paid solution starts at $5/user for the small businesses whereas, for the enterprises, it might cost extra with advanced features. 
7. Synkron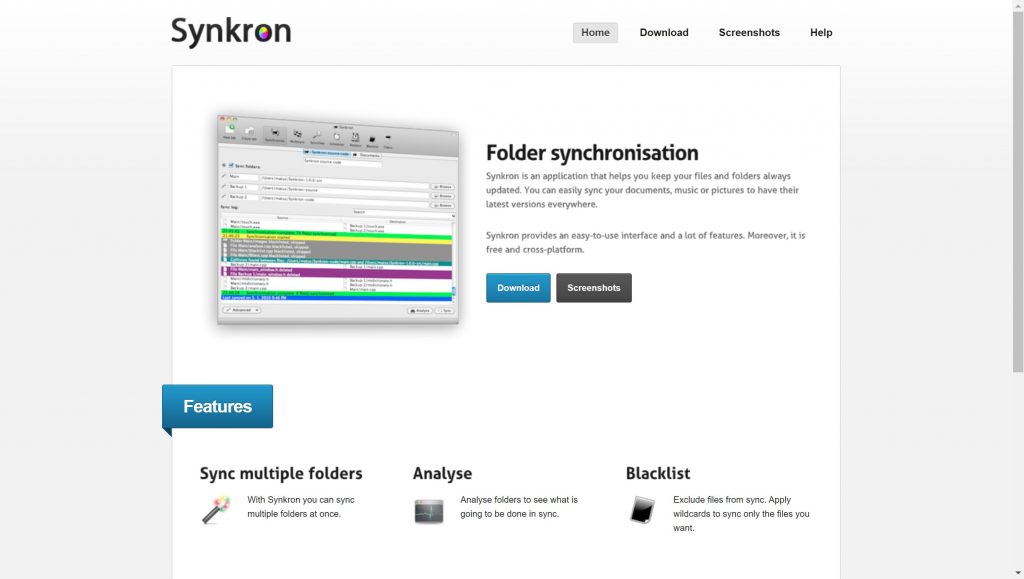 Synkron is another cool file sync software that comes with a modern interface and works on various devices simultaneously. With Synkron, you can update all files and folders on multiple devices. 
This way, you can sync your files and folders or documents and access them from anywhere. You can sync multiple folders at once saving a lot of time. 
Features:
It allows the blacklist of files that you don't want to sync. 

In the dashboard, users can analyse the sync and see what changes will take place. 

Admin can allow users to restore the deleted files or overwrite the previously deleted files. 

It is a free and cross-platform software that works on Windows, Mac OS, and Linux as well. 
Pricing: Synkron is a free file sync software and certainly one of the best solutions for teams. 
8.

Resilio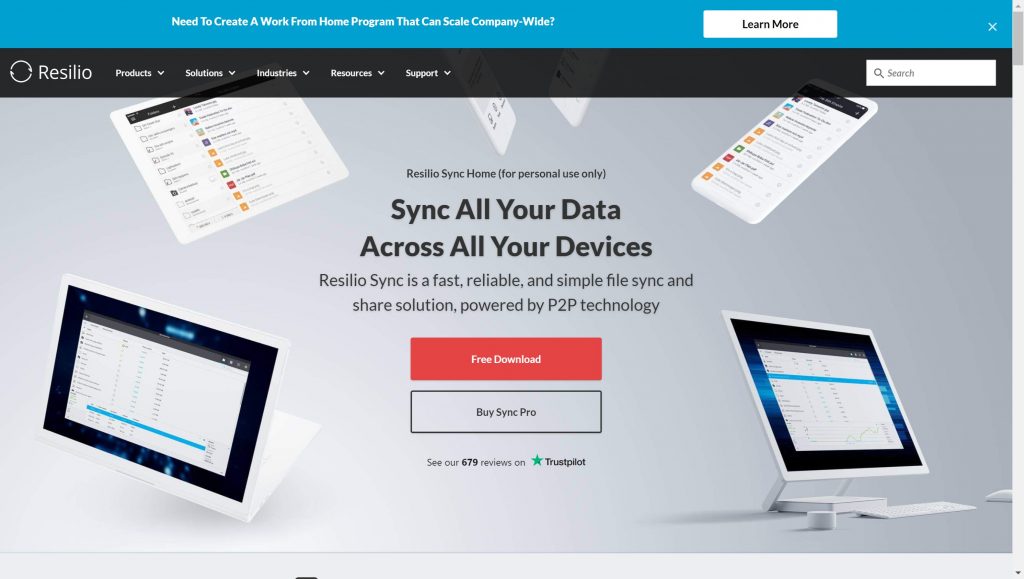 One thing about Reselio that is surprising is its approach. Resilio uses peer-to-peer technology for file transfers instead of using cloud servers. Resilio is the same company that owns BitTorrent that offers P2P technology with lightning-fast transfer. 
Resilio is a great fit for your home as well as the business needs. Be it the enterprises or small teams, it has plans for all the users. 
Features:
It has high end encrypted transfer and comes with end-to-end security features. 

Besides this, it also comes with two-factor authentication and bi-directional transfers. 

You can sync as many as folders at the same time. The sync will take place on all the linked devices. 

Resilio is a cross-platform software and works on all devices including Mac, Android, Windows along with NAS devices. 

One of the best features is that it allows you to set the bandwidth to your data transfer. This way, your Sync activity will only take place when higher bandwidth is available.
Pricing: Resilio has three pricing plans. Sync for personal use costs $59.9/one-time. For a team of up to 5 members, it costs $99.9. For larger businesses, Resilio costs $30/month. 
Resilio gives a guaranteed 30-day money-back guarantee. 
9. Dropbox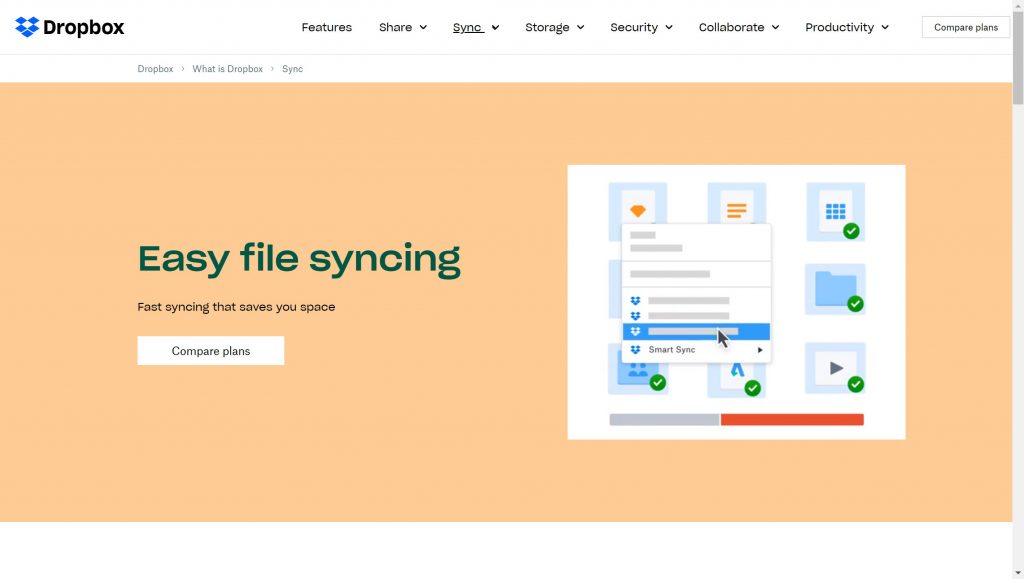 Not to forget this reputed and one of the most amazon backup and file syncing software. Dropbox is an all-in-one solution designed for team collaboration and backup management.
Dropbox is a cloud-based solution that can be accessed from anywhere and from any device. The software comes with security features, unlimited storage, accessibility, and sharing features. 
Features: 
Dropbox lets users collaborate with up to date notification of the progress and changes. 

You can integrate and connect with any tools including Zoom, Slack, and other Integrations. 

Dropbox works seamlessly on mobile as well as desktop devices. With the desktop version, users can collaborate and sync files in one place.

The Smart Sync Feature enables users to send files from the local disk to the cloud storage.  
Pricing: Dropbox is free to use software. It costs $12/user/month and the plans come with different features. 
10. Google Backup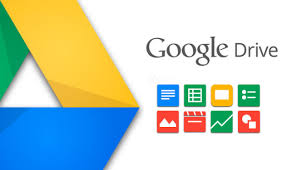 Google Backup is a free to use sync cloud-based software. It is the most widely used cloud-based file-syncing software that creates backup and transfers the file quickly. 
Along with this, Google Backup gives amazing collaboration tools. 
Features: 
Downloadable Mobile and Desktop App

It gives up to 5GB of free storage

Add as many collaborators as you can to the task. 
11. Seafile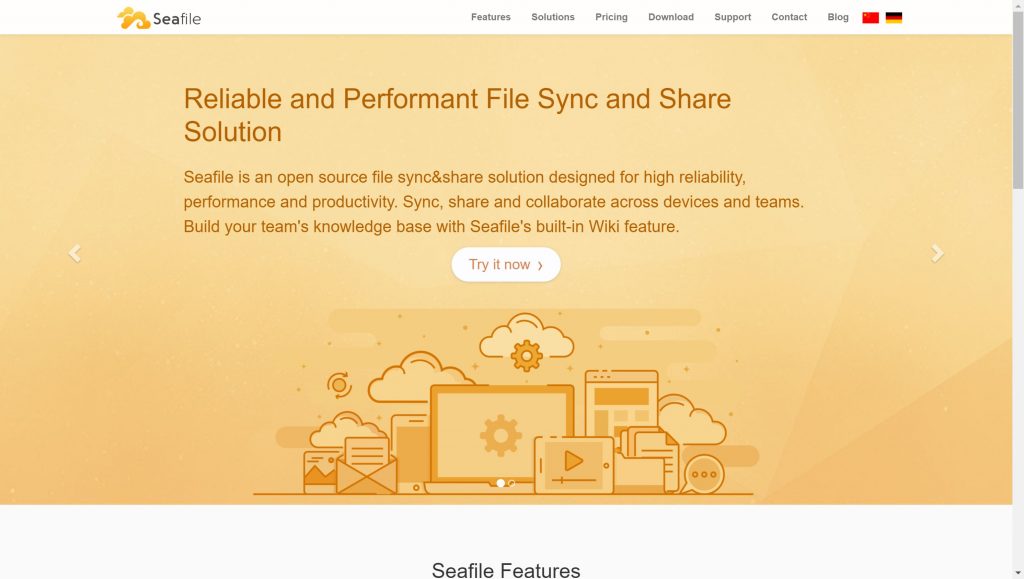 Seafile is yet another top-notch open source file syncing software that is fit for a team of 3 to various users. It helps the team strive for more efficient and quicker collaboration using the cross-platform feature. 
Features: 
Files can also be accessed using mobile clients for iOs and Android devices. 

Seafile efficiently locks your files to prevent unauthorized use. 

One of the best features of Seafile is that it provides a Wiki section that helps the team get more knowledge. 

Seafile also gives the co-authoring feature with online editing of these files. 
Pricing: Seafile is free to use for up to 3 users. For up to 9 users, it costs $100/year. If you have more than 9 users, you can choose a plan that costs $48/user/year. 
Conclusion:
An ideal file sync software can help you overcome the large data loss fears for an organization. It allows users to manage and update multiple files and folders using different devices. 
There is no wonder why enterprises use syncing software for increasing team efficiency. This was our list of Best File Sync Software that you must try in 2021. Let us know in the comments if we have missed something.